How can a Celebrant make a micro-wedding more magical for the few guests that are there?
The effect of Covid-19 in 2020 has caused the "Micro-wedding" to become more popular and works whether you are allowed 100, 30, 15 or even 6 guests. A micro-wedding is not to be confused with an elopement which is usually just the marrying couple and two witnesses.
There are huge benefits to a micro wedding; the main one is that it encourages us to keep the couple who is marrying and their love at the centre of it all. From there the important themes of a marriage can be explored, to help you form your commitments to each other. A well-trained Celebrant can help you really understand this and make it an integral part of your more personal, intimate, totally bespoke ceremony.
If you don't like to be in the spotlight, then a micro-wedding is great for you as there are less eyes focusing on you. It could be that you are braver in your choices when the people who are sharing the moment with you are your closest family and trusted friends. You might choose to involve more people in the ceremony with tributes, songs, readings, unity ceremonies involving sand or candles or handfasting's, the options are unlimited, and your Celebrant can help you explore these as time limits don't need to be a consideration.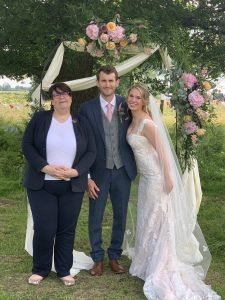 A Celebrant led ceremony has no limit on the content and with a micro-wedding you can explore different locations for your celebration such as the beach, a woodland or even your own back garden. Perhaps you'd like a twilight ceremony, centred around a celebratory meal where you get to spend more time with your guest than you would at a bigger wedding?
To explore all your options and opportunities for a Magical Micro-Wedding, which are totally endless with a Celebrant,  then please do get in touch via the contact details on this website.