We don't know where to start with our Celebrant wedding! Do you have any suggestions of what we could include?
I'm thrilled you have chosen a Celebrant to lead your ceremony, it opens up your choices and enables to be creative with the structure of your ceremony but this in turn can be overwhelming when making choices.
A well-trained Celebrant will be able to guide you through some ideas of what to include and these could be Traditional elements such as an Exchange of Vows, Exchange of Rings and Announcement of Marriage sealed with a kiss which always make for great photos.
You might choose to include talented family members or friends – Someone to sing you into the ceremony, people who juggle with fire to lead you out if you are having a circus theme, maybe someone important to you can read a poem or piece of meaningful prose or perhaps they would like to pay a tribute as to what they admire about your relationship.
You could involve the whole congregation in some elements such as a Ring Warming, Passing the Heartbeat or one giant Handfasting as a demonstration of unity and community.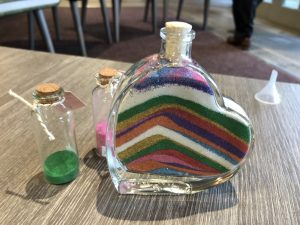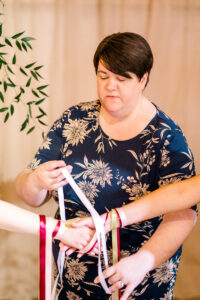 My advice to you would be to start with your celebrant – research the training and experience of the ones in your area and then meet with them for an informal chat or set up a Zoom/Facetime call to discuss your ideas. If you feel they suit your personality and really understand what you are trying to achieve you can collaborate to build the ceremony of your dreams.
Your Celebrant will then get to know you as individuals and understand what your impending wedding means to you and then can suggest elements that might fit with your needs. You may have decided to have a themed wedding and so the elements will be dictated by that, for example a Mead Ceremony might be appropriate for a Game of Thrones ceremony.
You might be part of a multicultural or multi faith couple and so want to include elements that reflect your cultural background or faith and your celebrant can build this into the ceremony or take themes from within those traditions and rituals to create a new one, specifically for you.
I'd also recommend using apps such as Pinterest or Instagram to get an idea of what you like, wedding magazines can also help you create a board of images that sum up a look or feel that you might want to emulate, this is also useful when looking for a suitable photographer.
If this is overwhelming, download a wedding planner from the internet and start working out what you do know and have already planned and tick them off, working through one section at a time can help to balance the workload. Also, consider what is non-negotiable and what you don't want for instance, I knew that I would need a venue with accommodation because I had some guests who would be travelling quite a distance to attend out wedding. I also knew that I wanted something relaxed so big country house was out of my choices and I felt that local venues that were golf clubs were quite soulless when I visited so I ruled them out too – that gave me a specific list of places to arrange viewings for.
Once I had shortlisted my venue I then had to understand if the images I had saved of relaxed and rustic decorations and colours fitted into the ceremony space at that venue or even if the outdoor space was a better fit than indoors.
Again, your celebrant will then be able to take this information and construct a ceremony that considers location in the choreography, for example, if you are getting married in a big vineyard, how will the bride get to the ceremony space without the groom being able to see her before she reaches the end of the aisle? They should even be able to consider your guests and how they will feel with your choices, will Aunty Mabel's dodgy hip be able to cope with sitting on a hay bale or can a solid chair be allocated for her, also don't underestimate the prickliness of haybales and the damage they can do to fancy frocks!!
In short, invite your celebrant around for a cuppa, talk about what you do know and what you definitely don't want and trust in them to use their knowledge and experience to make suggestions as to how to enhance your ceremony and remember, you get to have your day, your way so if that means you don't include anything other than a reading, vow and ring exchange then that's fine, we only want you to be happy and excited for your day.