I had no idea what to expect at an Indian Wedding but had always wanted to go to one. The vibrant colours, the ceremony, the noises and smells where all so exciting to me and finally, I got to not only be invited to attend one, but to officiate at one – I was so excited!
Read more about this multicultural wedding day in an Essex country house below.
When: December 2021
Where: Hylands House, Essex
Who: Purvi and Meetul
Friendship at school developed into love and with the blessings of their families they became engaged. The Covid-19 Pandemic meant their original wedding plans were drastically changed. The big Indian wedding with hundreds of guests couldn't happen and only immediate family could attend their legal registry office wedding, which they decided to proceed with, rescheduling all other celebrations until they could have the event they wanted.
First Contact:
Purvi contacted me in the Summer of 2021 to explain that their closest family and friends had not been able to witness their legal ceremony and they wanted to have a ceremony that involved those that had missed out. The Indian wedding was planned for December, and they now needed a celebrant to conduct a civil style ceremony. To say I was excited about the proposition was an understatement and I virtually begged her for the job.
We talked about structure, wording and feel for the ceremony and came up with some ideas so I could get writing. Purvi and Meetul wanted to keep a traditional civil ceremony structure with rings being exchanged but wanted to write their own vows – not a problem at all and truly personalised.
Planning Meeting:
In November it was time to meet in person, as a lot of restrictions had been lifted, however there was still some nervousness around Covid as a new variant was becoming problematic and could spread quickly. A decision was made that we would proceed with plans until we were told we couldn't and crikey where there a lot of plans?!
The Meetul and Purvi sat around the table with the wedding co-ordinators from Hyland's House, Rupesh from R1 Events and myself and a minute-by-minute itinerary was created, starting at 7am for the suppliers and bridal party to arrive until midnight when the reception was due to finish, I was exhausted at the thought of it.
I had been to events at Hyland's House before but had never held a ceremony there and was very pleased to find myself allocated the Banqueting Room, resplendent in reds and golds and sparkling in the light from the chandeliers. I then joined in the tour of the bride and groom's preparation suites and was blown away again by the gorgeous facilities in the recently renovated space.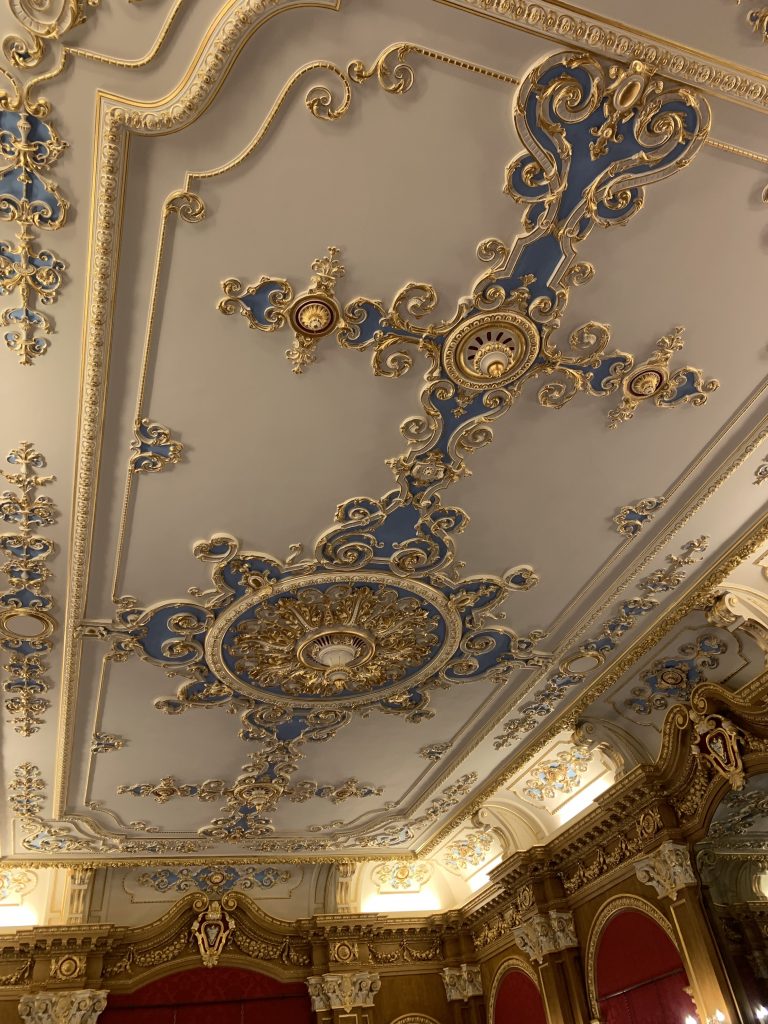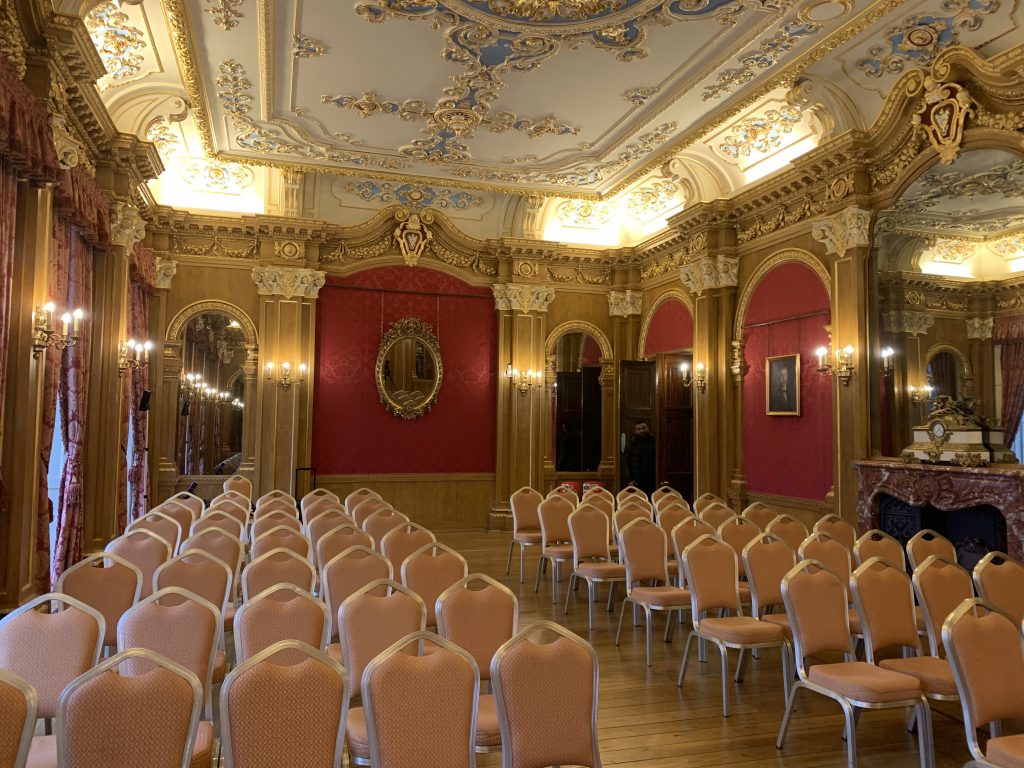 It was then my turn to sit down with Meetul and Purvi and run through the script, making sure I had everyone's names correct and the pronunciations right was especially important to me. We then chatted for a while and got to know each other properly as only the briefest of Zoom meetings had been held before and getting acquainted in 3D is so much better.
When I explained why I was so excited for their wedding they immediately invited me to spend the day with them as their guest and witness the full Hindu ceremony from breakfast to after my ceremony had been conducted and I had grabbed them for a photo, I couldn't believe my luck and their generosity in inviting me.
Wedding Day:
The big day came around and I am on site for 8:30, searching out coffee and savouring the delicious smells that were already filling the corridors. I seated myself at one of the banqueting tables with a family, all dressed in the vivid finery that I was hoping to see, so naturally I got chatting and asked them about their jewellery and outfits and they worried about why I wasn't eating breakfast and explaining what the food was.
We were then joined by two gentlemen from Xclusive who were Dhol players, drums that are beaten with sticks to announce the grooms arrival and are often accompanied, as in this case with smoke flairs and all the guests greeting the groom, dancing, clapping and cheering as he arrives in his flamboyant outfit, sometimes in a prestigious car, as in this case in a Shelby Cobra – my absolute favourite car of all time!
It was then the party started. I was invited to join the family I had been talking to over breakfast and took my seat in the marquee where a huge structure called a Mandap had been erected, covered in beautiful flowers, chairs and opulent fabrics. We were greeted by Kamal Pandey, a Hindu priest, who expertly guided the familiar and the uninitiated such as myself through the ceremony elements of prayers, song, blessings, gift giving, washing of feet and so on, both in Sanskrit and English, until finally the groom was hidden behind a large cloth by two family members and this announced the arrival of the bride.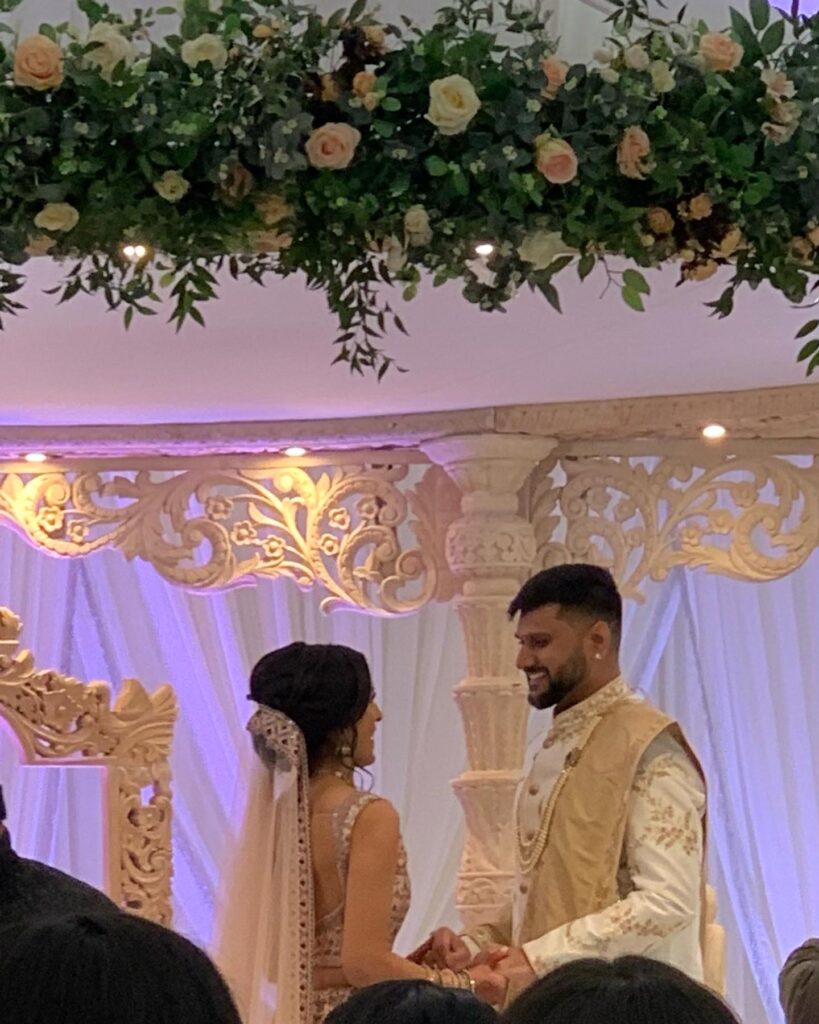 Much excitement ensued as the bride made her entrance, resplendent and sparkling in her highly embellished outfit. More ritual followed of prayers and songs as her family gave their blessing for the marriage and witnessed the joining of their daughter, literally with a large garland, to their new son in law.  It was musical, it was vibrant, it was moving, and it screamed joy and celebration, I was so grateful to have been invited to be a part of it.
After a beautiful buffet lunch of so many different food stuffs that I couldn't even begin to describe it, except to say that these little morsels had every taste sensation you could imagine, there was time for a bit of quiet as guests left to go and get their civil ceremony outfits on and others said their goodbyes and offered their best wishes to the couple as they played games and had some photographs taken.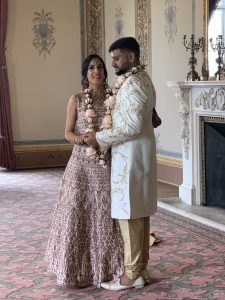 Celebrant Led:
Finally, the time came for me to play my part. I had met with the photographers and arranged where people would be standing and what would happen when, so they could be sure to get the best shots and the groom had confirmed all the guests had arrived, so we made our way to the opulent banqueting room.
After welcoming everyone and thanking them all for the fact that I felt so welcome and had made several new aunties that day, our bridal part arrived, and we began our ceremony.
We had fun with the mother of the groom and the best man who were so mischievous, it was hilarious. We had some funny readings and then the reading of the couple's vows, full of love and personal jokes that really gave those present a feel for who Meetul and Purvi  were and the dynamic of their relationship. It was a joy to introduce them as husband and wife to their guests, and as you can see from my bright red face in the picture after the ceremony, I couldn't have been more thrilled to have been a part of it.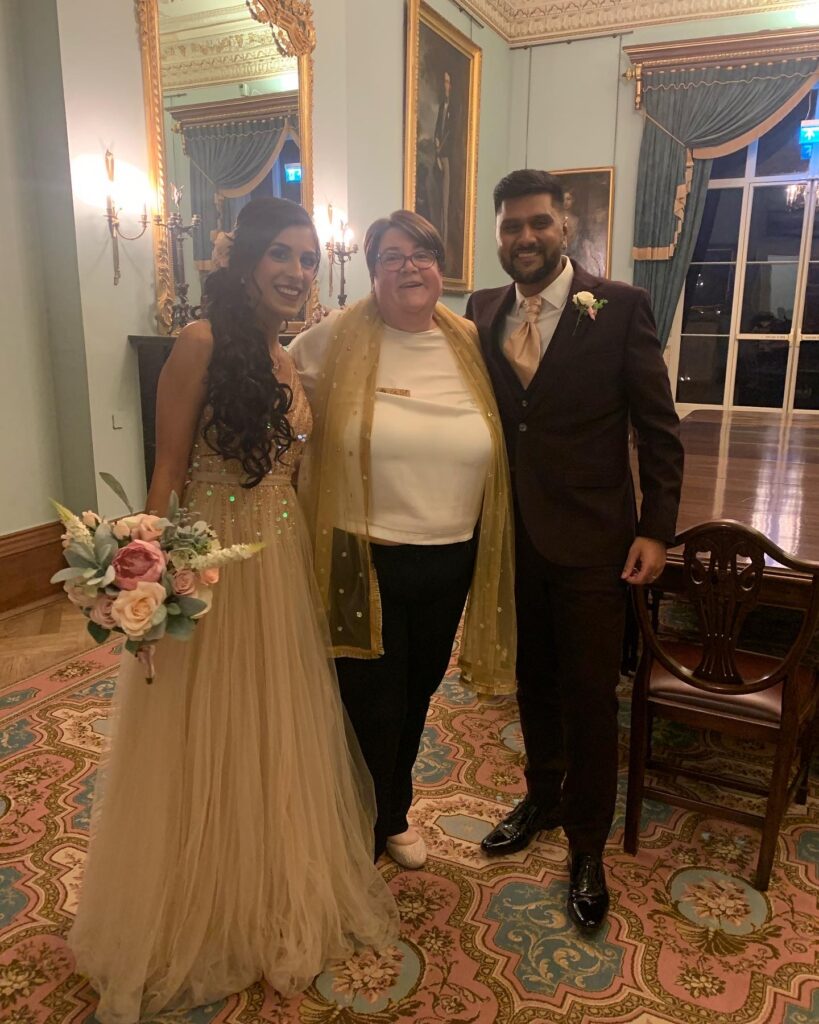 After the event Purvi left me some gorgeous feedback on Google and I can't wait to see their formal photos. For me, I had the best experience of an Indian Wedding, a multicultural day, being welcomed into a whole different culture by everyone I met, and I was over joyed to be in such a beautiful country house in Essex for such a joyous day. Thanks so much Meetul and Purvi.
"We just wanted to say a massive thank you for conducting our ceremony, you were amazing. You were funny and kept all the guests listening. We were so glad to be able to bring our personalities to the ceremony and it was great watching you interacting with our nearest and dearest. We hope you enjoyed the morning of the wedding and the food, we will surely be recommending you to friends and family."