Real Wedding:  A Themed Celebration
How to theme a wedding to reflect your individuality and personality. Here, my couple had two ceremonies, due to the impact of Covid 19, both of which were themed around things meaningful to them and their relationship.
Where:  Wat Tyler Country Park
When: April 2021 and February 2022.
Who: Liea and Daniel
First Contact:
I first received an enquiry via my website in June 2020 from Liea, with a view to conducting a ceremony for them in April 2021. When I met with Daniel and Liea on a balmy summer day, over drinks in their back garden, we talked about their ceremony and what vision they had for their day.
They told me they were fans of animations, fantasy games and cosplay and wanted to base their ceremony on the female contingent being flower fairies and the males would be Vikings and they would like to use a special bottle of Mead as a key element in the proceedings. How Awesome! This ceremony was going to challenge my research skills and storytelling – I was very excited!!
I discovered that Mead was the drink of the Gods; it is ancient and venerable and believed to be the oldest alcohol in the world dating back nearly 10,000 years. It is steeped in history, from ancient China to the epic story if Beowulf in Norse tradition. It is said to turn those who imbibed it into scholars or poets, tapping into the well of knowledge possessed by Odin. With all this history and mythology behind it, Mead is still used in marriage celebrations the world over to bless the union and to impart on it the wisdom and knowledge that is required to be a dedicated and wise husband or wife.
When 2021 came round, as we all know, the world became a difficult place and there was a stop to all non-religious weddings. So, we waited.
As restrictions were lifted and people were allowed to meet friends in public spaces, coincidentally in April of 2021, we took our opportunity and with a small re-write, we created a hand tying ceremony, to be held in a local woodland with Liea and their daughter as flower fairies, accompanied by her mum and Daniel's mum as witnesses.
It was a lovely, intimate ceremony and the outfits were fab. I left them all with the promise of conducting a bigger ceremony for them, as we had originally planned, when the pandemic passed.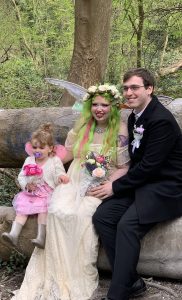 Later in the year, I heard from Liea again, would I be available in February to conduct the larger ceremony, complete with the Mead Ceremony and Jumping the Broom? And, by the way, this ceremony was going to be styled on the films of Tim Burton and Liea was basing her dress on The Corpse Bride animated film – now we're talking, I bloody love Tim Burton!!
So, off I toddled and got my research hat on again, which meant I got to watch as many Tim Burton films as I could find (brilliant!) and made notes on recurrent themes and motifs so I could build these into the script. I also dusted off the old broom ready for her big moment!
Wedding Day:
This February 2022, we all gathered in a beautiful barn at Wat Tyler Country Park,Basildon, in brilliant sunshine, accompanied by a chilled wind and bundled up dog walkers and running children in hats and scarves.
Liea had created some amazing centrepieces for the guests' tables based on Sweeney Todd, Beetle Juice, Nightmare before Christmas, and Edward Scissorhands. We had planned their vows to reflect the vows taken by Victor and Victoria/Emily, the main characters in The Corpse Bride and so, on the top table, there were 2 goblets, 2 candles, and the special bottle of Mead.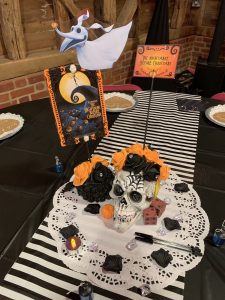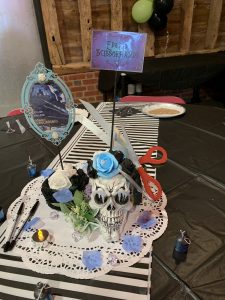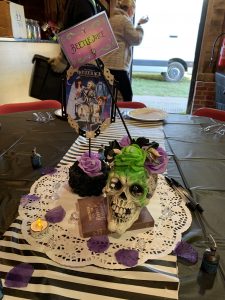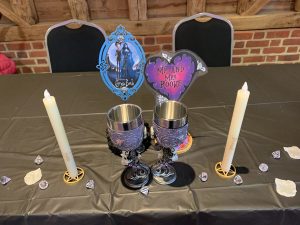 Celebrant Led:
Liea and Daniel combined their legal ceremony with my ceremony and representatives from Essex Registration Service attended to hear them make their declarations and sign the schedule before I stepped in to get the party started, help them exchange vows and rings, jump over the broom into their combined future and finally, take a sip from the special bottle of Mead.
For me, I felt like we had really formed a bond. Liea and Daniel helped me to flex my creative muscles and were happy to support me to help them deliver a vision for their ceremonies that reflected their passions and interests. Meanwhile I got to know their mums, as they were instrumental in each ceremony, their daughter went from being a toddler to a little lady and they even had another baby! So, I guess in some ways, the pandemic added to our relationship rather than detracted from it.
The benefit of being a celebrant is that we get to meet all kinds of people with all kinds of interests and some of them want traditional ceremonies that look and feel like you would have in a religious setting but without the religion, and that is absolutely fine by me. I have always said that my clients wedding days are not about me but about what I could give them.
Sometimes, you get people who want something slightly different for their 'big day', whether they want to be reflecting their favourite football team, or TV Programme in Game of Thrones or Peaky Blinders and you know what, that's also alright for me and pushes me to bring something new to the table and that is exciting to me as a creative writer and storyteller.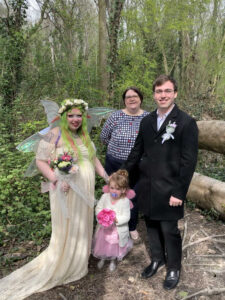 Don't think for one moment that these non-traditional events are any less solemn or respectful to the sanctity of marriage. I do not create these ceremonies to be disrespectful to those who followed a legal path either with registrars or clergy. I create these ceremonies to reflect the couples at the centre of it all, I create them because I believe that people should be able to shop around to find people that can serve them to have a celebration of their marriage that reflects their personalities in a meaningful way but invokes the fun and celebration of their relationship.
If this sounds like something you can get on board with or you feel that finally you may have found the solution to how to make your vison become a reality, then please, do reach out, I love a challenge 